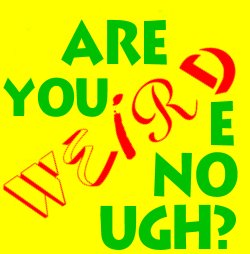 So this is it. This is where you share yourself, flaunt your weirdness, and make fun of all those around you. This is where you tell me your story and let me pass judgment on it.
There's only two rules about the stories you send. First, they have to be true. Don't go making anything up, even if it's funny as hell, that's not what this site's about.
Second, it has to be weird. How weird? I don't know. Measure it the way I'll measure it. Think about it, and try to decide if your story really is weirder than marshmallows.
If it is, or if you think it is, all you have to do is fill out the simple form below. You can be as detailed or generic in the story as you want, you don't have to be a writer. That's my job. Just make sure you give me enough to understand what happened, and I'll do the rest.
One last warning. You may think your story's weird, but that doesn't mean I will. I'm not going to use every one I get. In the end, it's up to me whether or not you're weird enough.
I hope that doesn't discourage you from posting, because I need your stories. This site is your stories. And with any luck, you'll send me enough to show just how truly strange this planet is.

By submitting your story, you certify that the story is true. You also acknowledge that by posting this story you are turning it over to the Weirder than Marshmallows, to do with as they please. Any work, written or otherwise, that comes from this story is solely theirs, and you're okay with that.
Tell Us Your "Weirder Than" Story
Take some time, look at the different stories, and send me some of your own. Because this site won't survive without you baring your soul, embarrassing your loved ones, and making fun of the stupidity all around you. That's what this site is all about.